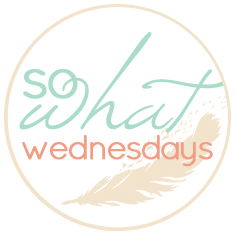 Once again it's Wednesday and today I'm saying SO WHAT IF...
...I'm late to the blogging party today. Be glad you're getting something.
...I'm officially a member of the 5am club! I'm loving the morning workouts!
...I would make Nelly's Country Grammar my theme song if I lived in the Lou.
...I made Paleo Meatloaf last night. It was delicious... and I don't like meatloaf.
...one of my students wore a shirt that says, "Young, Wild, and Free" and the only accurate part was "Young", she rocked that shirt.
...I ran my fastest 5K this morning at the gym. I'm hoping to do it again Saturday at the Freedom Run.
...I'm counting down the days until my return to the Lou.
...my lunch today consisted of all veggies and some hummus. I wasn't mad about it.
...I'm rocking my Vibram Five Finger shoes today and have been asked 137642 times "what's you with your shoes?"
That's all I have today. I'm headed home to take a nap!
Happy Hump Day!