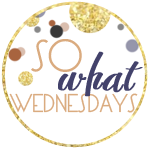 If you're new around these parts, get with the program! Link up and tell me what you're saying "so what" about!
...I haven't worked out since the Fort4Fitness half on Saturday. Leading up to race day I felt like all I did was run. It's been great having this break. But, alas, all good things must come to an end. Tonight I am lacing up my running shoes and pounding the pavement for a 5-6 miler.
...I was in bed at 8:30 last night. It's getting dark earlier and with nothing good on tv, I figured I might as well just go to bed.
...I'm missing Holly, Melanie, Megan, and Brandi like crazy! We had a great weekend! We need to figure out how to make Missouri, Texas and Indiana closer together.
...I didn't win Skinny Meg's Diet Bet. I did manage to drop 5 pounds (darn that last .4).
...I'm on a fall decoration kick lately. I've only purchased a small bag of gourds, but there is so much more I want. If only we weren't trying to pinch pennies.
...I don't want to erase what R wrote on our "I love you because..." board. It's too sweet!!
...I wish I could swing going to St. Louis this weekend to run the MO Cowbell half with Holly and Mel! Love those girls!
...I really want something to hang in the wall to display my medals and bibs.
That's all I've got for today. Happy Wednesday, Rockstars!!!