I had all intentions of writing this post yesterday, but school was crazy and I wasn't even able to sit at my desk and check my email until 3:40. Anywho... here's the scoop...
My IRL friend, Lora, from Raising Steppe Sisters, delivered her precious bundle of joy on Sunday. She was just 26ish weeks pregnant at the time. Baby Harper is stable, but they have been told the first 75 hours are the most critical. Please pray for these 75 hours to go by without complication. Once past those 75 hours, Harper will still have a long road ahead of him. He will be in the hospital until December. In order to help, some friends have sent up a fund raising page for the family. If you are able and feel called to donate, please visit this page. No amount is too small. If you are unable to give financially, please pray for baby Harper, as well as his Mommy, Daddy, and two big sisters.
Also, as most of you know, I am an independent distributor for Advocare. I will be donating 100% of my profits from now through November 1st to Baby Harper's fund. If you need Spark, a 10 Day Cleanse, or even a 24 Day Challenge Bundle, you will not only be helping yourself live a healthier lifestyle, but you will also be helping Harper. The buttons below will link you directly to the my 10 Day Cleanse and 24 Day Challenge pages.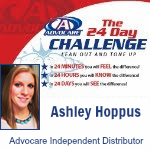 Happy Hump Day friends! The rest of my week is busy preparing for my girls to arrive on Friday and focusing on getting through my first half marathon on Saturday. It should be a good weekend!!!